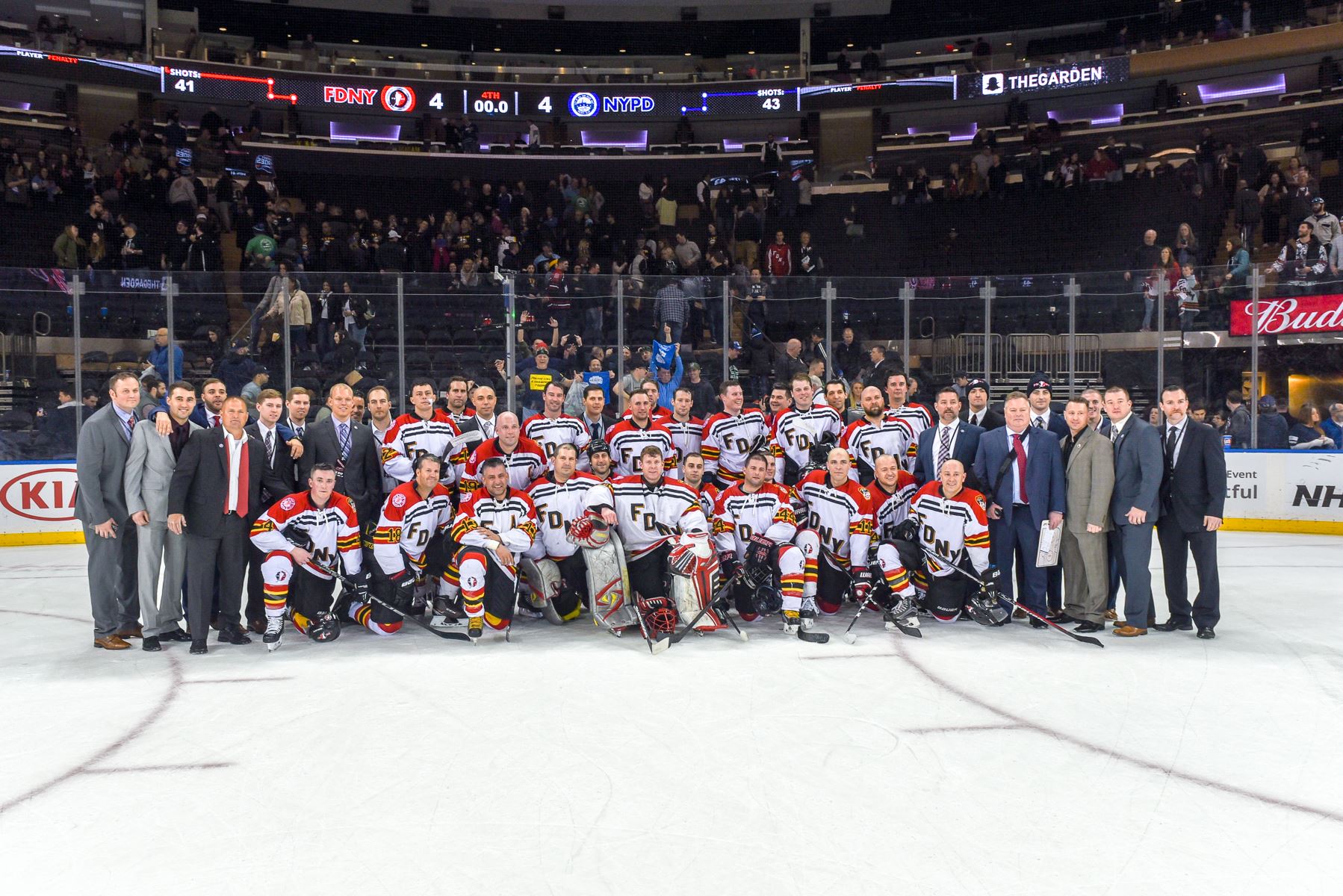 The 46th Annual FDNY-NYPD Charity Game took place on Saturday, March 30th at Madison Square Garden to a sold out crowd of over 18,000 fans for the third time in four years. New York's Bravest were wearing white while New York's Finest wore blue. In a locker room presentation, the FDNY team presented the family of Michael Davidson E-69, who lost his life at a fire last year, with a check for $10,000. The on ice pre-game ceremony included the FDNY and NYPD Ceremonial Units, Pipes and Drums, Dignitaries, a ceremonial puck drop with the Davidson family and a moment of silence for all those we have lost on the last year from Line of Duty Deaths as well as 9/11 Related Illness. Municipal Credit Union and Ford made check presentations to both teams as well. Hooters was the official game sponsor.
Puck dropped at 11:55am and it was a close first period with neither team scoring. Anthony Antenucci opening the scoring for the FDNY at the 5 minute mark of the second period, on assists from Derek Kern and Joe Sanger. A little over 2 minutes later the NYPD tied it up with a goal from Lopes. (Assists - McAleer/Morales) NYPD took a 2-1 lead on a goal from Antonik with an assist from Hurley and Charlie Venticinque. NY's Finest had a power play and was Ragone was able to score off an assist from McCreery.
Derek Kern (Assist - Thomas Esposito) score just 12 seconds into the third period to bring the FDNY to within one goal. Jim Becker ended up tying the game at 3-3 with a backhand shot up over the goalie. At 14:59, Anthony Antenucci scored his second of the game off a pass from John Sullivan to take the first Bravest lead of the day. Less than a minute later NYPD Antonitis scored to take away the FDNY lead and tie up the game at 4-4. The game ended regulation tied and ended up doing a 5 on 5 overtime for 5 minutes. A couple close calls but the game ran out of time and the two teams had to settle for a time.
Thank you to all our fans that came to the game and supported the team. Both teams were able to run a 50/50 and the donation of $10,000 went to the Ray Pfeifer Foundation. The team also did a t-shirt collaboration with the New York Ranger Fans Clothing Company, WeBleedBlue.com, and were able to raise another $4,000 for the Ray Pfeifer Foundation. The Ray Pfeifer Foundation are a charitable organization that are dedicated to assisting September 11th first responders, firefighters and police, with medical needs not covered by insurance. If you would like to donate to them, go to www.TheRayPfeiferFoundation.org.